Conrad Drake Atwood (born Feburary 24,2011) is a American celebrity whose dad and uncle are both popular youtubers. His dad,
Dale Atwood
, has almost 900,000 subscribers on his channel, while his uncle,
Roman Atwood
, has almost 10,000,000 subscribers on both of his youtube channels.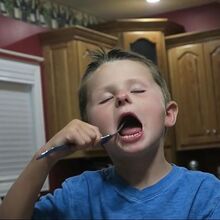 Early Life
Conrad Drake Atwood was born on Feburary 24, 2011 to Curtis Dale Atwood III and Jessica Erin Atwood . He has an older brother, Curtis Dale Atwood IV . He has 3 cousins Noah Vaughn Atwood, Kane Alexander Atwood, and Cora Atwood.
Gallery
Ad blocker interference detected!
Wikia is a free-to-use site that makes money from advertising. We have a modified experience for viewers using ad blockers

Wikia is not accessible if you've made further modifications. Remove the custom ad blocker rule(s) and the page will load as expected.