Curtis Dale Atwood II (born August 16,1959) is the dad of youtubers
Roman Atwood
and
Dale Curtis Atwood III
. He is married to
Susan Anne Atwood
.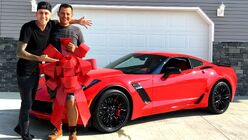 Early Life
Curtis Dale Atwood II was born on August 16,1959 in Ohio. He is married to Susan Anne Christman Atwood.
Later Life
His first child, a son named Roman Bernard Atwood, was born on May 28, 1983. His second child, Curtis Dale Atwood III , was born on May 7, 1985. He is the grandfather of Kane Alexander Atwood, Noah Vaughn Atwood, Curtis Dale Atwood IV, Cora Atwood, and Conrad Atwood. He is the father in-law of Jessica Atwood and kind of one to Brittney Smith.
Trivia
Born August 16, 1959 (age 57)
Ad blocker interference detected!
Wikia is a free-to-use site that makes money from advertising. We have a modified experience for viewers using ad blockers

Wikia is not accessible if you've made further modifications. Remove the custom ad blocker rule(s) and the page will load as expected.