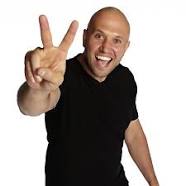 Dennis Roady (born June 6, 1983) is a German-born American YouTube personality, prankster, actor and army veteran best known for his roles in the movie Natural Born Pranksters (featuring Roman Atwood and Vitaly Zdorovetskiy) and the series Fight of the Living Dead: Experiment 88, as well as for his YouTube channels Dennis Roady Deeds and How to prank it up (stylized howtoPRANKitup). As of September 30, 2016 his channel howtoPRANKitup has 3 million subscribers with about 500 million views.  
Associated Acts
He is associated with Roman Atwood , Vitaly Zdorovetskiy , Chase Gilroy, and many others.
Gallery

Ad blocker interference detected!
Wikia is a free-to-use site that makes money from advertising. We have a modified experience for viewers using ad blockers

Wikia is not accessible if you've made further modifications. Remove the custom ad blocker rule(s) and the page will load as expected.